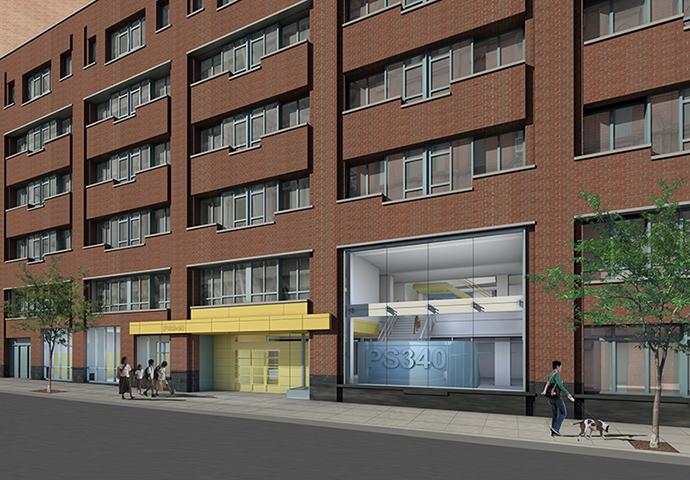 MDSA announced its selection by the NYC School Construction Authority (SCA) to design the conversion of the major portion of New York Foundling Hospital's Manhattan building into the new home of PS340. The lower six floors and cellar of the 14 story high-rise building will be transformed from a hospital to a new public school. The 95,000 s/f facility, located at the corner of the Avenue of the Americas and 17th Street, will serve 518 students in levels Pre-K through Fifth Grade. "Converting a functioning hospital built in 1988 into a modern and welcoming primary school is just the kind of challenge we like–one that required us to think inside the box so to speak," says Michael D. Szerbaty, principal of the firm.
"The complexity of this project, with the inherent conditions of the existing multi-tenant building, its orientation, footprint, and a combination of code issues requires us to find innovative solutions to create a school that is invigorating, inviting and open. The project is also a Green School following SCA Guidelines."
The street façade will be modified to incorporate new entry elements and large glass surfaces, giving the school an identifiable street presence. Natural light will flood the two-story lobby offering a street view of the dramatic main staircase with a raised graphic announcing the school's name.
The project will include 21 new classrooms, Pre-K through 5 located on the quieter 17th Street side of the building. Specialized instructional areas for art, music, science, a library and multi-purpose room look over 6th Avenue from the upper floors. In addition to the main entry, the ground floor contains the cafeteria and dance studio. A rooftop play area is located on the second floor and the lower level will contain a lecture ban/auditorium. New York Foundling, which constructed the building in 1988, is consolidating some of its operation on the upper floors of the 14-story building and moving its hospital function to a new location.